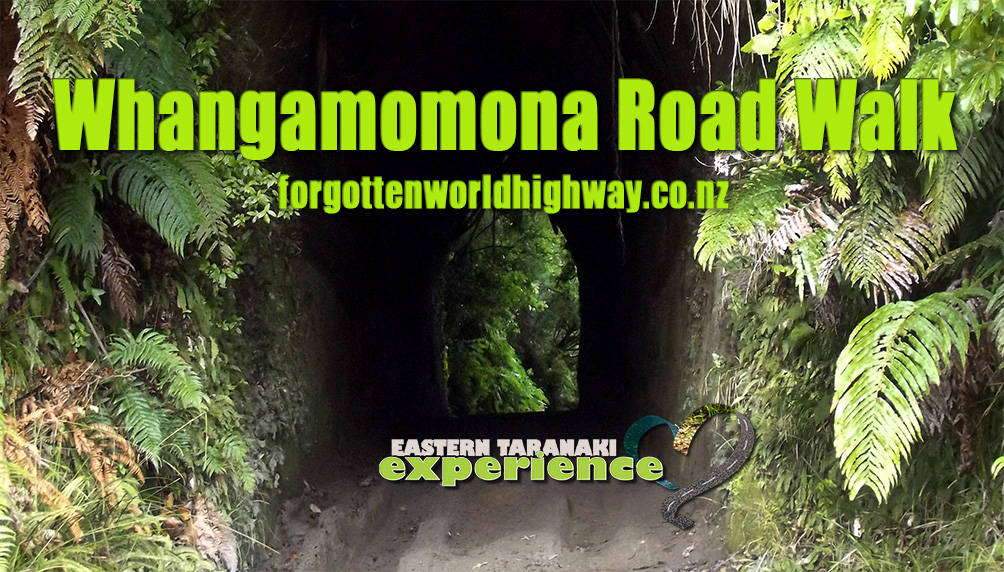 History of Whangamomona Road -18km – 4-5 hours walk
The road links Aotuhia and Whangamomona and follows the Whangamomona River. It was originally formed as a pack track for around 6km between Aotuhia and the junction of the Whanganui and Tangarakau Rivers. This junction enabled timber, fencing materials, household goods and supplies to be brought up river on Hatricks riverboats for the Aotuhia settlers from 1896. In addition because of the variable state of the early road between Whangamomona and Stratford (now SH43) this form of transport via the river also serviced Whangamomona when needed.
Once the railway reached Whangamomona in 1914 the road then became the main service route for the 20 or so farms at Aotuhia. Cream was sledged up to the rail twice a week from the small 'billy-can' dairy farms. O'Dea's up the Okara Road milked 60 cows and their trip by sledge was about 50km return.
First cars appeared on the road in the 1920's as well as trucks to cart supplies. The tortuous route witnessed many accidents as horses and motor vehicles slid off the narrow road high above the river.
Gradually the crippling effects of the depression and isolation on farming families saw settlers forced off the land. While the road was in a reasonable 'all-weather' state by 1928, severe floods in the 30's and 40's closed it for long periods. The settler, Ted Wylie, left in 1942. Stratford County Council ceased maintenance around this time also.
Bridge To Somewhere: Ironically with the district all but abandoned the government authorised the construction of the bridge over the Whangamomona River. It was built in concrete by Peacock Construction of Patea for 1,800 pound and was completed in May 1937.
...................................................................................................................................................................................................................................................
Ideally this is a boot grade walk – the overall terrain is flat (no climbs) however the track service is uneven with animal and vehicle footprints/tracks etc. It can also be very muddy in places. If you don't have tramping boots please wear footwear that provides the most comfort and ankle support you can
There is no place to get fresh water so please carry enough for the day – in addition a packed lunch and other snacks
This is a public area, there could be others using it i.e. 4WDs, Horses etc
$55.00 per person for transport from Stratford to Aotuhia Station in morning and then Whangamomona to Stratford in afternoon - complimentary morning tea at bridge before your walk
TRAMPING EQUIPMENT:
Day Pack with lunch and water
Correct Clothing and Boots and Weatherproof Parka
Polyprops e.g. thermal under layer (optional)
Sunhat, Sun block, Insect Repellent
Personal Medications and Basic First Aid Kit
Putties (aka Gaters) and Walking Poles (optional but recommended)
GENERAL
Other clothing including casual shoes (can be left in van to change into)
Camera
Extra money for hotel drink
DATES AVAILABLE:
12 November 2022
We add more as demand suits and if you have your own group, minimum 10 - maximum 20 you can set your own date (subject to us being available)
Each season we run 3 day trips with Remote Adventures for the Helicopter in / Walk out adventure.
Price $260.00 per person for transport from Stratford to Waitotara Valley Road end, helicopter - helicopter ride is about 10 mins and the day in limited to 10 clients. The 16km walk follows the Waitotara River firstly in lovely bush area then open farm track terrain back to the waiting vehicle. A well deserved drink stop is at the historic Waitotara Hotel on the way home.
At this stage we are still in the planning stage for the 2022-2023 season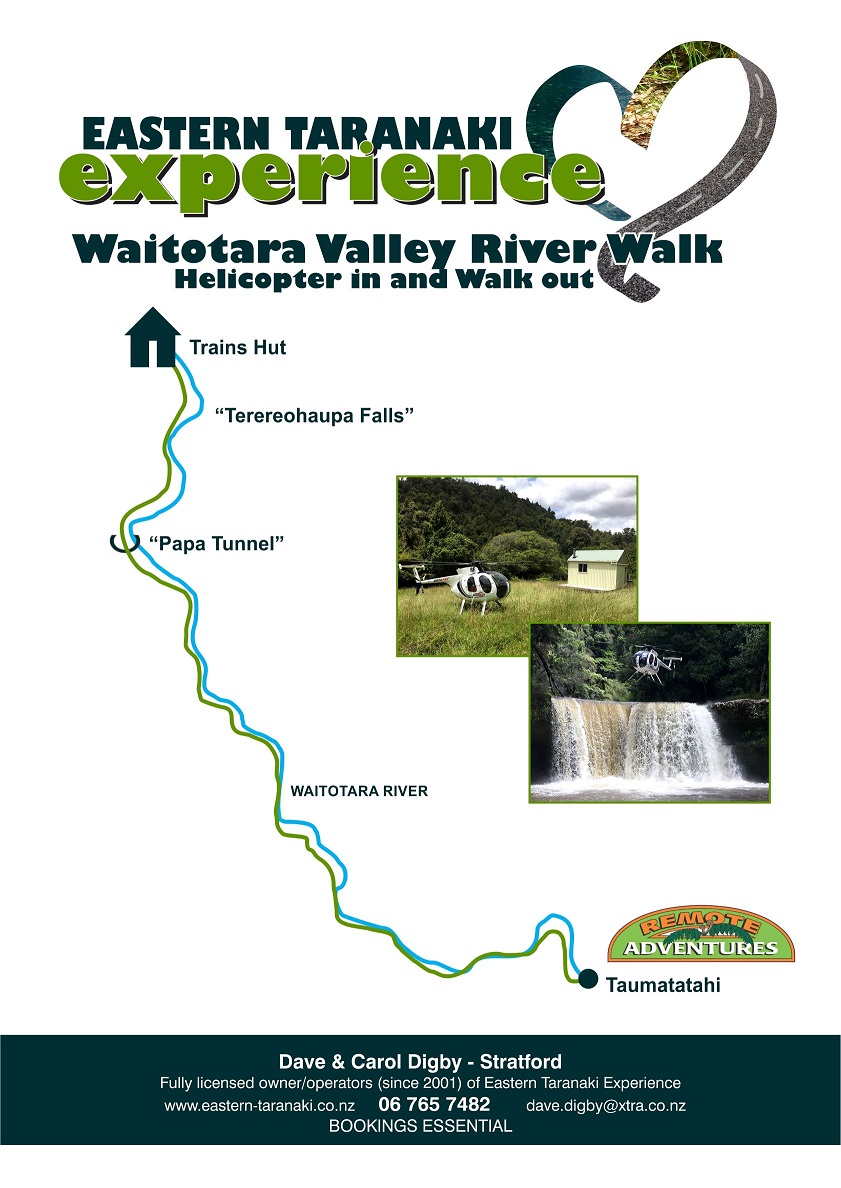 Contact: Eastern Taranaki Experience
5 Verona Place, Stratford, Taranaki
Phone: 06 765 7482
Find us on facebook
Check out what else we do
Main website - http://www.eastern-taranaki.co.nz
Train Tours (info only site) - http://www.eastern-taranaki.nz
Homestay accommodation in Stratford http://www.eastern-taranaki.kiwi